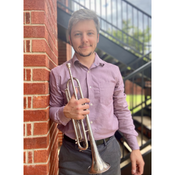 Adjunct — Instructor of Music, Trumpet
Email Miles Roth
Miles Roth teaches trumpet at Midwestern State University, and is an active freelance trumpet player and educator in the DFW area. Miles grew up in Colorado Springs, Colorado. He earned his Bachelors Degree at the University of Northern Colorado in Jazz Studies, and went on to earn his Masters Degree in Trumpet Performance at the University of Denver.
He recently achieved Doctoral Candidacy at the University of North Texas, where he studied with Professor John Holt. Miles has also studied with Philip Dizack, Caleb Hudson, Rob Parton, and Bobby Shew. He has performed throughout the United States, as well as internationally in venues such as the Forbidden City Concert Hall and the Lincoln Center. 
Miles is a 2-time semi-finalist in the National Trumpet Competition, Runner-up in the Rocky Mountain Concerto Competition, and has received many other awards and accolades. As a freelancer, Miles has played lead trumpet with Jennifer Hudson, Take 6, Il Divo, the Glenn Miller Band, and has also performed with the Colorado Symphony, Denver Brass, Tom Harrell, Jon Faddis, Jeff Hamilton, and many others.