In 2018, the Fain College of Fine Arts received a generous seven-figure donation for the replacement of the pianos. The acquisition of approximately 25 new upright or grand pianos and a piano lab was made possible through the generosity of the Perkins Prothro Foundation and Dale and Joe Prothro, longtime donors to the fine arts programs. The Prothros established the Music Series at Akin in 2011, the premiere chamber music concert series for the city and region.
---
Fain Fine Arts Center
The Fain Fine Arts Building houses the Departments of Art, Mass Communication, Music and Theatre all under one roof. Each department within the College of Fine Arts has the privilege of working closely with the other disciplines within the college due to the close proximity of the workspaces.
The Didzun Music Wing in the Fain Fine Arts Building houses the Department of Music administrative offices, classrooms, rehearsal facilities, faculty studios, piano lab and music practice suite.
Fain Instrumental Music Hall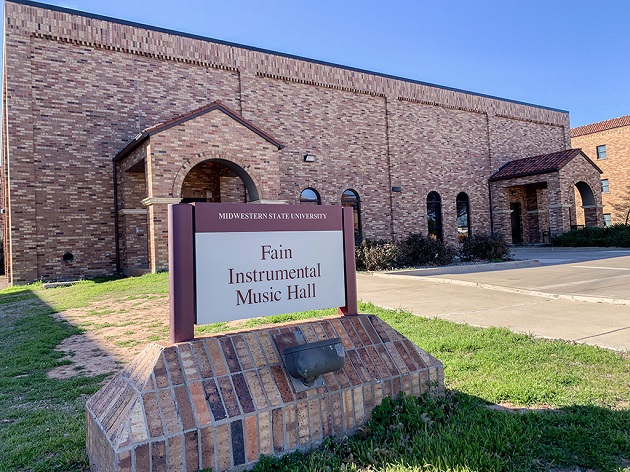 Completed in 2010, the Fain Instrumental Music Building houses the instrumental Rehearsal Hall, officers of the Director of Bands and Associate Director of Bands, the instrumental music library, and the percussion practice studio.
Burns Chapel
Burns Chapel is a medium-sized performance space that hosts a wide variety of performances throughout the year. Student recitals, departmental recitals, and chamber ensemble concerts take place regularly within the space. The annex that is attached to Burns Chapel is also home to the student learning center and the football coaches offices.
Akin Auditorium
Akin Auditorium, a 422-seat venue located at the north end of the Hardin Administration Building, is the primary performance facility for the Midwestern State University Department of Music. A full renovation of the auditorium was completed in the Fall of 2019 and now includes technology to stream concerts online for viewers across the world.
Music Technology Lab
The Music Technology Lab at MSU is housed at within the Fain College of Fine Arts Building, and contains 14 Yamaha digital pianos, purchased in 2018. The recently updated iMac computers allow students access to professional music notation and recording software. Classes in piano and music technology meet in the Music Technology Lab.
Music Practice Suite
The Music Practice Suite is housed within the Fain Fine Arts Building and is the primary practice space for students at Midwestern State University. There are seven practice rooms contained within the Music Practice Suite including four rooms with Wenger VAE acoustical technology. MSU also houses two more practice rooms that are adjacent to the Music Practice Suite as well as a large percussion practice space for a total of 10 dedicated practice rooms.