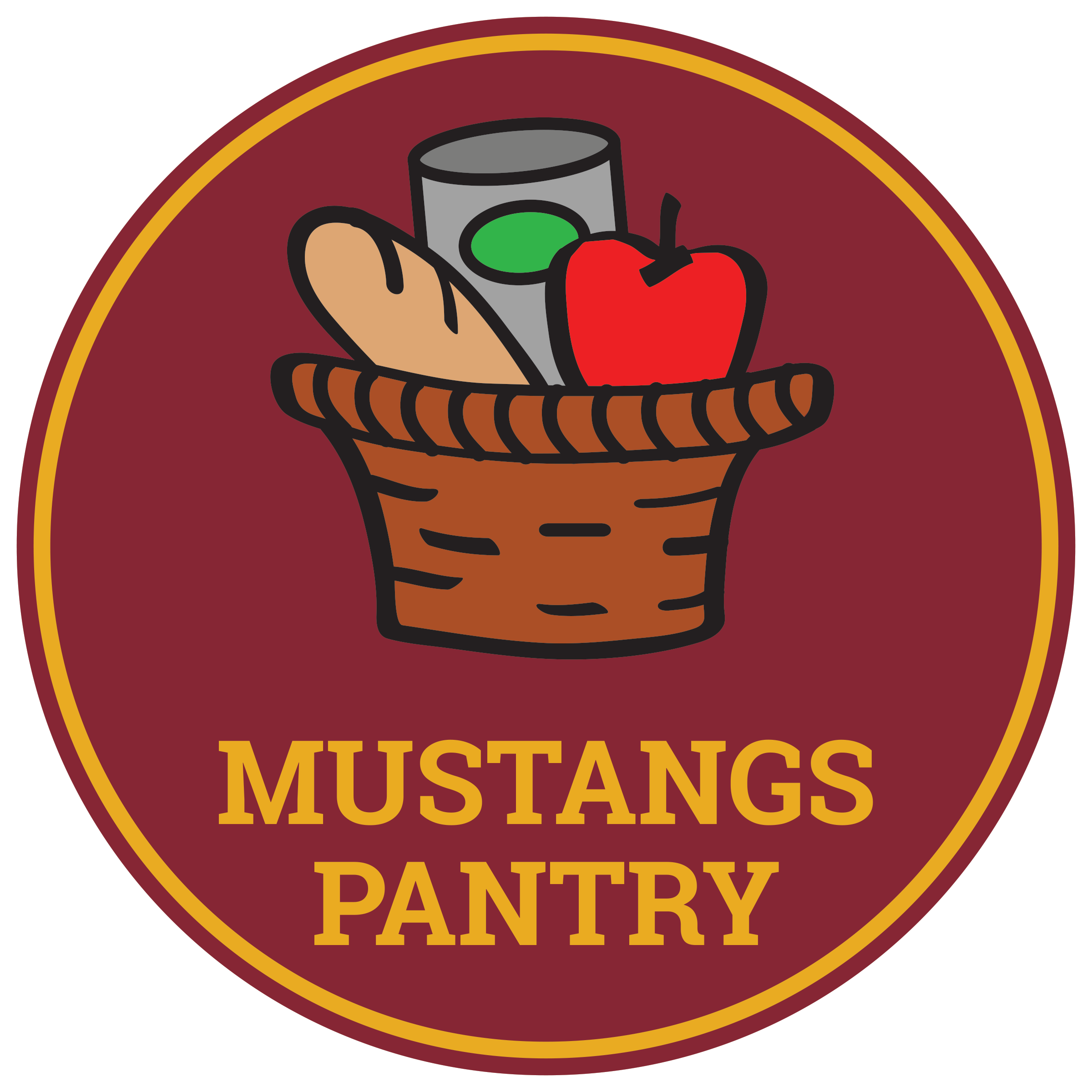 The Mustangs Pantry is an emergency aid program at MSU Texas designed to improve lives and help supplement the needs of students experiencing food insecurity
Spring 2023 Hours of Operation
Wednesday: 5-7 PM
 Thursday: 5-7 PM
---
The Mustangs Pantry is a free service open to all currently enrolled students at MSU Texas who are not on a residential meal plan featuring 75 meals. The Mustangs Pantry is located in the Bridwell Activities Center and is open every Wednesday from 5-7pm while the University is open. If a student experiencing food insecurity is unable to visit the Pantry due to a conflict with their class schedule, a service time can be arranged by visiting the Clark Student Center Office. A valid MSU ID is necessary to access the Mustangs Pantry.
Students visiting the Mustangs Pantry can expect a simple, open-handed, and non-judgmental environment in which they can receive items from a variety of non-perishable goods such as canned soups, meats, pasta, vegetables, fruits, and cereals as well as boxed and refrigerated selections. Personal hygiene products are also available.
The Mustangs Pantry is made possible thanks to the generosity of the MSU Texas and Wichita Falls community. The donation of food items, personal hygiene products, and tax-deductible financial contributions sustain the program. Any food items received which are not utilized by the Mustangs Pantry is donated to local non-profit organizations such as the Wichita Falls Area Food Bank or Faith Mission.
---
 Make a Monetary Contribution
Individuals or organizations wishing to make a tax-deductible monetary contribution to the Mustangs Pantry are welcome to donate through the Office of University Development. 100% of funds received directly support the Mustangs Pantry. Thanks to the support of generous community members, any first-time MSU donors contributing to the Mustangs Pantry will have their gift matched, as long as funds are available.
To mail your donations, please use:
Office of University Development
Attn: Mustangs Pantry
3410 Taft Blvd
Wichita Falls, TX 76308
---
Wish List of Food and Personal Hygiene Items
Proteins
Canned Meat (Tuna, Chicken, SPAM)
Beans (Baked, Canned, Dried)
Canned or Boxed Soup
Canned Stew
Chili
Peanut Butter
Nuts
Trail Mix
Fruits & Veggies
Canned Fruit
Fruit Cups
Canned Vegetables
Applesauce
Dried Fruit
Raisins
Allergen Free Items
Miscellaneous Food Items
Spaghetti or Pasta Sauce
Instant Potatoes
Juice Boxes or Bottles
Honey
Tea
Jelly or Jam
Pasta and Noodles (Canned, Mix, Dry)
Macaroni & Cheese
Rice (Plain or Mixes)
Grains
Oatmeal
Cereal
Crackers
Granola Bars
Pancake Mix
Muffin Mix
Bread Mix
Jelly or Jam
Instant Jell-O or Pudding
Instant Coffee
Dry or Powdered Milk
Household Items
Feminine Hygiene Products
Toilet Paper
Tissues
Paper Towels
Laundry or Dish Detergent
Razors
Shaving Cream
Shampoo
Conditioner
Toothpaste
Toothbrushes
Deodorant
Collection bins are located in multiple buildings on the MSU Texas campus, including the Clark Student center next to room 173.
For organized or large item donations, food drive efforts, and other opportunities to support the Mustangs Pantry, please contact the Clark Student Center at (940) 397-4223.