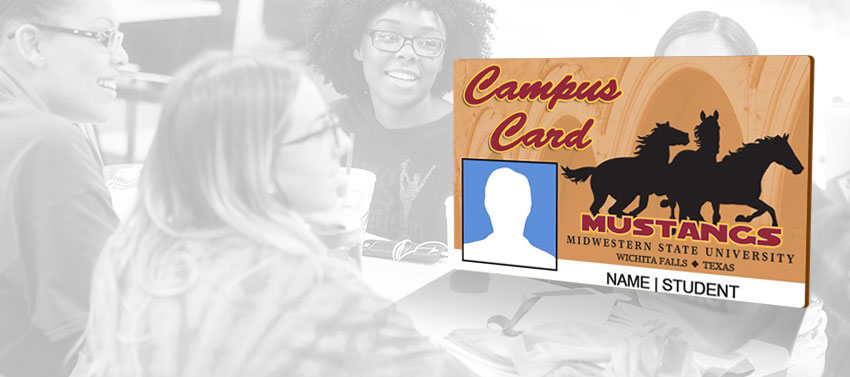 The Campus Card is the official identification card of Midwestern State University. Just one card allows access to a variety of campus options and services, including the following:


Building access (residence halls and apartments, various academic buildings, computer labs, Redwine Student Wellness Center, Clark Student Center recreation room, etc)
Dining meal plans/flex dollars
Moffett Library services
Mustangs Shuttle, MESA, and City of Wichita Falls public transportation
University events, including home athletic contests
Vinson Health Center
A student's Campus Card can also be used for optional banking access when linked to a Wells Fargo checking account. For more information, please visit the Wells Fargo campus card website. 
Wells Fargo Bank, N.A. Member FDIC. 
Checking Account Options Available From Wells Fargo
Midwestern State University and Wells Fargo have teamed up to offer students optional banking convenience with a linked Campus Card. This program offers students the ability to open a checking account with Wells Fargo, which they can link to their Campus Card for banking access. These optional services are available for students' convenience. 
The Department of Education's (ED) Cash Management regulations 34 CFR 668.164(d)(4)(i)(B)(2) (issued October 2015), require institutions participating in T2 (Campus Card) arrangements to list and identify the major features and commonly assessed fees as well as a URL for the terms and conditions of each financial account offered under the arrangement. 
View Wells Fargo Financial Accounts Disclosures PDF


Midwestern State University receives financial support from Wells Fargo Bank for services associated with the Campus Card program. Students, faculty, and staff are not required to open an account with Wells Fargo Bank to receive or use the Campus Card for campus services.
MSU Campus Debit Card Agreement with Wells Fargo Bank
For the award year period of July 1, 2017 – June 30, 2018:
Total number of customers with linked accounts = 2,345
Mean and median linked account costs:
Mean = $47.25
Median = $6.70
Total consideration received by Midwestern State University from Wells Fargo Bank = $15,921
Royalties = $8,660
Operational Support = $2,261
Marketing Materials = $5,000