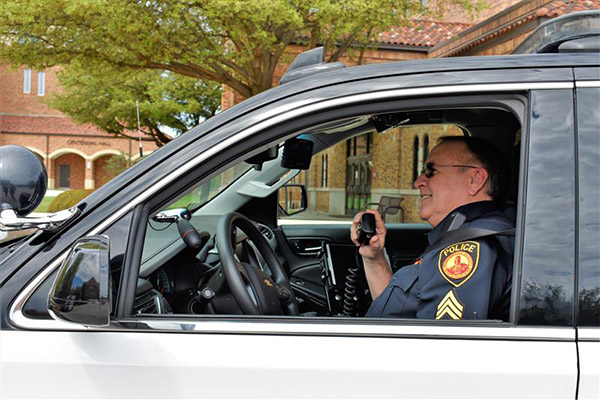 The mission of the MSU Texas Police Department is to support the mission of the University by providing a safe academic environment for persons and property of Midwestern State University. This will be accomplished through the detection and apprehension of criminals, the utilization of community oriented policing practices, and crime prevention based programs in an attempt to improve the quality of life on campus and to reduce the fear of crime.
---
The following is the organizational chart for the MSU Texas Police Department. MSU Texas PD is a department within the division of Student Affairs and the Chief of Police reports to the Vice President for Student Affairs, Dr. Keith Lamb. 
---
Section 51.203 of the Texas Education Code authorizes governing boards of state institutions to employ and commission peace officers. MSU Texas Police Officers are Texas Peace Officers, per Article 2.12 of the Texas Code of Criminal Procedure and their authority within their primary jurisdiction is equivalent to all other peace officers within the state. Our Police Officers and Telecommunicators are licensed by the State of Texas and undergo the same rigorous training, and meet the same standards, as their municipal and county counterparts.
The primary jurisdiction of our MSU Texas police officers includes any county in which property is owned, leased, rented, or otherwise under the control of Midwestern State University.
---
MSU Texas goes to great lengths to make the task of parking as convenient as possible, by making data-informed decisions regarding current and future parking needs, eliminating the need for students to purchase their parking permit, and by moving the bulk of the parking management function to an on-line portal, where patrons can register their vehicles, pay their fines, and/or file their appeals. If in-person assistance is needed, the parking desk is staffed during normal office hours, and can be reached at 
940-397-4310
.
---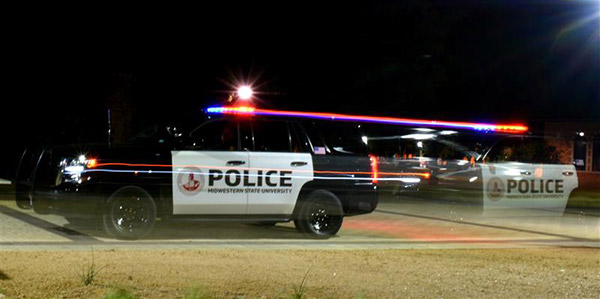 Patrol Division:
  Most MSU Texas Police Officers are assigned to the patrol division, the most visible component of the Department. Operating 24/7, our police officers are often seen patrolling campus, either by foot, or motorized vehicle. Through visibility and presence, the primary functions of patrol include deterring criminal activity and enhancing the perception of safety, prompt response to both routine and emergency calls for service, and the initial investigation of suspicious matters and crimes, reported to MSU Texas PD.
---
Communications Office:
Operating in tandem with the patrol division is the communications (dispatch) office, which is staffed 24/7 by state-licensed Telecommunicators. This office serves as the University's central point of contact for all in-coming police and security-related matters. Telecommunicators within this office answer calls for public service, dispatch police patrols, monitor a variety of police and security software, and have access to the Texas Law Enforcement Terminal System (TLETS), a computer network that connects MSU Texas PD with other law enforcement agencies around the nation and the world.
---
Criminal Investigation Unit:
To support the Department's goal of deterring and solving crimes, the MSU Texas PD staffs the criminal investigation unit with a highly-trained and experienced detective, whose primary function is to investigate unsolved offenses and file criminal charges, when appropriate. The individual selected to fill this position possesses decades of previous law enforcement and investigative experience, is highly-skilled in a wide variety of investigative techniques, and remains up-to-date in current trends in criminal law.
---
Clery Compliance:
Federal legislation, commonly known as the "Clery Act," requires that institutions of higher education, which accept federal financial aid funds, comply with a number of safety-related and crime-reporting mandates. While Clery Act compliance is an institutional responsibility, compliance oversight is best accomplished through a single office – at MSU Texas, that responsibility is housed within the University Police Department, staffed by an officer specifically and uniquely trained in Clery Act compliance.
---
The MSU Texas Police Department strives to provide the highest level of customer service possible to its community and appreciates receiving feedback on its services. If one of our employees exceeds your expectations, or fails to meet your expectations, we want to hear about it. All submissions are taken very seriously, as we take our commitment to public service very seriously.
To submit a compliment or complaint, please click on the link below, complete the form, and return it to the MSU Texas PD.