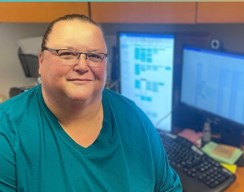 Christi Carter, M.S.R.S., R.T.(R) (ARRT), C.I.I.P.
Christi Carter serves as the Chair of Diagnostic Medical Imaging and as the Radiologic Technology Program Coordinator for Dallas College.  She holds associate and bachelor's degrees in radiologic science, as well as a master's degree in radiologic science with an emphasis in education, all from Midwestern State University in Wichita Falls. She has been with Dallas College (Brookhaven College) since 2003. She started the Radiologic Sciences Program at Brookhaven College in 2004 and has enjoyed a very successful program.  She has collaborated with colleagues to combine the Brookhaven and El Centro Radiologic Sciences program into one program for Dallas College in 2020.  She also started a VI, mammography, and CT certificate program at Dallas College.   She is registered by the American Registry of Radiologic Technologists (ARRT) in Radiography and is also registered by the American Board of Imaging Informatics (ABII) as a Certified Imaging Informatics Professional (CIIP). 
Christi worked as a staff technologist, PACS administrator, clinical educator and clinical manager at Children's Medical Center of Dallas for a combination of five years, and spent two and a half years as an applications specialist with Siemens Medical Systems. Using the knowledge that she gained during her previous job positions, she co-authored a textbook with Elsevier Publishing titled "Digital Radiography and PACS".  Christi has also served as an expert witness in cases involving the practice of a radiologic technologist and as an expert in x-ray film and chemistry artifacts.  She was also given the opportunity by The Ann & Gabriel Barbier-Mueller Museum: The Samurai Collection to take x-ray images of several of their Samurai artifacts for an exhibit in their museum in Dallas.
Christi is a member of the American Society of Radiologic Technologists (ASRT), the Association of Collegiate Educators in Radiologic Technology (ACERT), the Texas Society of Radiologic Technologists (TSRT), the North Texas Radiologic Technologists Society (NTRTS) and the Society of Imaging Informatics in Medicine. 
Heather Andis, B.S.R.S, R.T. (R)
Heather is an experienced and qualified leader, and is working diligently to improve her skills as a leader. She has over 16 years of experience in radiology and an expansive knowledge base of hiring employees, overseeing daily activities of multiple areas, providing compassionate service to patients, and maintaining productivity across her departments.  Her skills include critical thinking, employee engagement, and being a compassionate leader.  She has a passion to serve and give to others, to improve her skills, and encourage others to do the same.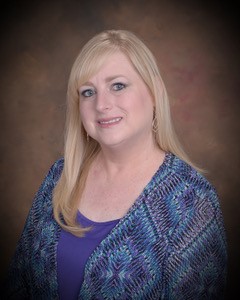 As a graduate of Midwestern State University's (MSU) first Radiologist Assistant (RA) class in 2006, Vicki Dillard is a passionate advocate and educator for RAs and all medical imagers. Vicki prides herself in being a radiologic technologist, a RA, a RA program Clinical Coordinator, and an Associate Professor of Radiologic Sciences with over 22 years of experience in radiology.
Vicki grew up on a ranch outside Midland, Texas and raised cattle for 4-H and FFA projects. After graduating from Midland High School, Vicki applied to the radiography program at Midland College where she received her Associate of Applied Sciences degree in 1998. She started her professional career at Midland Memorial Hospital as a diagnostic radiographer and quickly moved into interventional radiology (IR) and cardiac cath lab. Vicki desired to expand her skills in the clinical area and found that MSU was starting a RA program. She graduated with her bachelor's degree in 2006 and passed the American Registry of Radiologic Technologists (ARRT) Registered Radiologist Assistant (RRA) examination. Vicki subsequently moved to Plano, Texas where she worked at Texas Health Resources Presbyterian Hospital of Dallas in IR and CT while enrolled in the Master of Science in Radiologic Sciences program.
Upon completing her master's degree in 2008, the chair of radiologic sciences approached Vicki to become the clinical coordinator of the RA Program. She quickly accepted the position and has taught at MSU for the past 13 years. During her time at MSU, Vicki authored and co-authored articles about the RA and radiology in Radiologic Technology, the ASRT Scanner, the Journal of American College of Radiology, Radiology Management, and the Journal of Allied Health. Vicki presented lectures at local, state, national, and international conferences regarding pathology, imaging, interventional techniques, and the role of RAs in healthcare. She has also developed directed readings and educational modules for Medical Imaging Consultants, eRadImaging, ASRT, and ARRT.
 She is actively involved in the American Society of Radiologic Technologists (ASRT) and served as the chair of the Radiologist Assistant Chapter, RA curriculum committee member, RA Practice Standards subcommittee member, member of the Committee on Radiologic Technology Advocacy, Student Leadership Program mentor, and PAC member. Vicki is also a member of the Society of Radiology Physician Extenders, where she served as President and Board Chair, and the Texas Society of Radiologic Technologists. Vicki constantly advocates for training in medical radiology and has given testimony on several radiologic science-related items to the Texas State Legislature and Texas Medical Board. She also educates members of the U.S. Congress and state regulatory agencies regarding the importance of radiologic science education, the role of the RA, and reimbursement.
Vicki married her best friend, John, in 2020 and has a blended family of six children, one grandson, and a Great Pyrenees. She enjoys traveling, watching movies, cooking, attending stock shows and ranch rodeos, and being with family and friends. Vicki is currently enrolled in A.T. Still University's Doctor of Health Sciences program and will graduate in December 2023.
 Haley Brock is a 2019 Midwestern State University Alumni with a Bachelor of Science in Radiologic Technology. She is registered in Computed Tomography as of 2021. For the past three years Haley has been a Multimodality Technologist for Children's Health Medical Center Dallas and PRN at Scottish Rite Hospital for Children. She recently moved on to become a Flex Force/Start-Up CT Technologist with Siemens Healthineers. She does on-call work with Siemens Healthineers for the Southwest Transplant Alliance in Dallas and Adjunct Faculty for Advanced Health Education Center. 
Ever since Haley was a student, she has been an active participant in the Radiology community. First serving as a student intern for both the Texas Society of Radiologic Technologists and the North Texas Radiologic Technologist Society. During this time Haley received the Rising Star Award in 2019 by TXSRT. She was honored to have been chosen as one of the two students in Texas to attend the Student Leadership Development Program in 2018 hosted by the American Society of Radiologic Technologists where she attended educational sessions, legislation, and networking. 
 From there, Haley has grown her advocacy interests by  serving as the Vice President for the North Texas Radiologic Techhnologist Society and committee member for the Organizational Development and Marketing Committee. Haley recently accepted a position as the Region 3 Chair Representative for R.T Advocacy as well as serving on the Committee of Nominations for ASRT. 
Haley has been accepted into the ASRT Online Advocacy Academy and received the Siemens Clinical Advancement Scholarship though the ASRT Foundation. She was recognized by ICE magazine as their January 2022 Rising Star."
Will Morgan is a professor, department chair, and program director who oversees the Radiologic Sciences Department and Diagnostic Medical Imaging program at City College of San Francisco. He holds a Master of Science in Radiologic Science from Midwestern State University. Being drawn to healthcare his whole life, he joined the healthcare profession in 2004 as a graduate of the U.S. Army radiography school. After completing his military service, he received his civilian ARRT certification in 2012. His experience includes acute care hospitals, urgent care, primary care, orthopedics, sports medicine, radiation safety, and education. Will works to promote compassion and equality while meeting the healthcare and educational needs of the community. In addition to his academic work, Will is an avid gamer who plays all manner of board games, video games, and tabletop games including Dungeons and Dragons.
Kendall Youngman graduated from Midwestern State University with her MSRS degree in the Summer of 2020. She is currently employed as the MRI/CT Program Director and Assistant Professor in the Medical Imaging and Radiation Sciences Program at Arkansas State University in Jonesboro, AR. Kendall also contributes to the radiology profession by serving as Lambda Nu Honor Society Executive Secretary, upcoming American Society of Radiologic Technologist (ASRT) CT delegate, and Arkansas State Society of Radiologic Technologist (ArSRT) Vice President. Since graduating from MSU, Kendall has published three peer-reviewed articles in national journals and presented at numerus radiological conferences; feats she attributes to the education she earned from MSU. In addition to her professional attributes, Kendall is most proud of her family; husband, John, and two children, Logan and Madelyn.