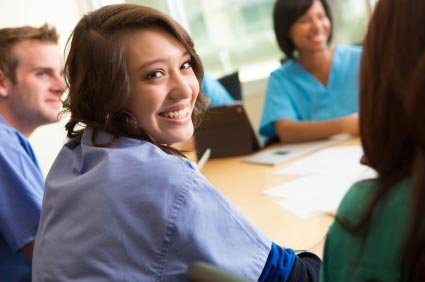 What is the benefit of earning a BSN?

The field of nursing is changing.  Are you ready?  The Institute of Medicine recommends that 80 percent of nurses in the United States hold a bachelor's degree by 2020. Earning a bachelor's nursing degree online can help you stay competitive and marketable. Our RN Transition Program is designed the help certified RNs who have a diploma or Associate Degree in Nursing (ADN) enhance their professional skills.
Take the First Step...
To get started in the RN Transition Program, your first step will be to complete the RN Transition application online. Once we receive your application, a department representative will contact you with additional information. If you decide you're ready to move forward, you will
 Take the Next Step...
Admission to the University is also required. All the information you will need can be found on the MSU Admissions web page, including requirements, costs, and forms. Once admitted to the University, your academic advisor will help you develop a degree plan tailored to your needs. You'll be on your way to earning your BSN, or maybe
 Step Up to Earn a Graduate Degree...
Perhaps your ultimate goal is to obtain a Master's in Nursing (MSN). Graduate nurses are in great demand, and Wilson School of Nursing offers excellent preparation in our  Family Nurse Practitioner and Psychiatric Mental Health Nurse Practitioner APRN tracks. During the first semester of the RN-Transition coursework, transition students who are interested in the MSN option will have the opportunity to enter a review process which includes taking the GRE or ScoreItNow! writing practice exam, and participating in a personal interview with the Graduate Programs Coordinator and APRN faculty.  A separate application to the Graduate School may be required.  
Once you've been accepted and have earned the BSN degree, you will be eligible to continue in the selected APRN track.
---
Student Learning Outcomes (Transitional RN to BSN program)
Graduates will:
Use clinical reasoning and knowledge based on the nursing program of study, evidence-based practice outcomes, and research studies as the basis for decision-making and comprehensive, safe patient and population care.
Demonstrate inquiry and analysis in applying patient care technologies and information systems to support safe nursing practice and population risk reduction.
Lead safety and quality improvement activities as part of the interdisciplinary team and as an advocate and manager of nursing care.
Manage care transitions and promote population risk reduction with diverse communities in collaboration with members of the interdisciplinary health care team.
Participate in monitoring institutional, professional and public policy to maintain adherence to standards of practice within legal, ethical, and regulatory frameworks of the professional nurse.
Demonstrate leadership skills related to financial, human resource, clinical and professional issues in providing and evaluating care.
---
RN-BSN Program at a Glance
100% Online
27 Credit Hours
Courses offered year-round
Partner with North Central Texas College (NCTC) and Weatherford College (WC) in Bridgeport, TX and Wise County, TX
Flexible degree plan offerings.  Can be completed in 3 semesters.
Courses are 8 and 16 weeks in Fall and Spring; courses are 5 and 10 weeks in Summer
3 start dates a year:

November 1st for Spring start
July 1st for Fall start
May 1st for Summer start

Accredited by the Commission on Collegiate Nursing Education
---