Living Learning Programs
Where Mustangs with similar academic and common interests live together.
---
Academic Living-Learning Programs:
Academic communities connect students interested in a common major or area of study. These communities are affiliated with specific university programs or majors and encourage collaborative work in and outside of the classroom. The academic LLPs offered at MSU Texas are:
Special Interest Living Learning Programs:
Special interest communities provide opportunities for students with common interests to live together and pursue those interests through organized programs and activities. Themed interest groups do not have academic or major requirements. The special Interest LLPs offered at MSU Texas are:
* Pending Acceptance into the program
How do I apply for an Living Learning Program?
Students wishing to join an LLP simply need to indicate this desire on their housing application and they will be manually assigned to their room and community. You can check your room status on the Housing Portal. 
If you did not designate an LLP on your housing application, there is still time to sign up. Simply log back into the Housing Portal and change your first room choice to the LLP program. Need assistants? Contact the housing office for more information, either by email, housing@msutexas.edu, or call our office at 940-397-4217.
Space is limited so in the event that an LLP becomes full by the time you apply, you will be added to a waitlist until a spot becomes available. For Fall 2023 housing, LLP room placement will begin on April 3, 2023, and will be updated on a weekly basis. Apply early to secure your spot. 
Why should I apply for a Living Learning Program?
At Midwestern State University, we believe there are many paths to a student's success. Living-learning Programs (LLPs) are one way to enhance your experience inside and outside of the classroom. Students enrolled in an LLP community are housed together with access to faculty, staff, and programming unique to each LLP's interest area.
LLPs are an excellent way to make friends and enhance your academic success. National research suggests students participating in LLPs:
Develop academic and social support systems more quickly than other students
Network more often with faculty and staff outside of the classroom
Engage more deeply with their areas of study as a result of participating in study groups and interactions with other LLP members
What are some of the programs offered to LLP residents?
Resident Assistants
One of the perks of joining an LLP is that you will have access to a Resident Assistant (RA), who is an upperclassman in your field of study or who is familiarized with your special interest program. This provides students with a unique on-campus experience where they can receive inside knowledge in regard to their major or special interest. The RAs can provide you with recommendations on how to be successful on your college journey and can connect you with important resources around campus. They will also plan programming and events related to your specific LLP community, such as dinners with advisors or professionals in your career field, trivia nights with professors, community service opportunities, and events specific to your major or special interest.
Get on the Bus Days
One of the unique field trips offered is known as our "Get on the Bus Day," which takes place twice each academic semester.  It provides an opportunity for students to interact with faculty and staff in a fun environment. The trip locations are a surprise to students and are completely free of charge.
Previous Get on the Bus Day Locations included the Oklahoma City Zoo, The Perot Museum of Nature and Science in Dallas, Texas, Lucy Park to volunteer for the Texoma's Hellacious Obstacle Run, and the Wichita Falls Theater to watch a performance of Newsies.
Are you brave enough to get on the bus with us?
LLP Departmental Programming
To further implement the LLP community environment, Residence Life and Housing puts on departmental programming for all LLP residents, which usually involves food (Yum!). 
For example, we plan an informal welcome mixer at the beginning of the school year to get residence acquainted with one another, as well as with faculty and staff.  In addition, a Thanksgiving potluck is also planned where residents are asked to make a side dish or dessert to share with other LLP members. The main course is provided by the department.  
Get to know some of our Living Learning Program Influencers
---
Midwestern State University is honored to have amazing faculty and staff who care deeply about the success of our Mustangs.
Faculty in Residence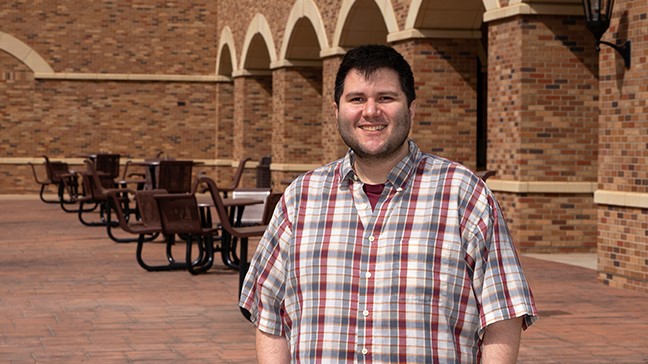 A Faculty in Residence is a professor that is selected to reside in Legacy Hall at MSU Texas.  The main goal of the Faculty in Residence position is to helps to bring academics into the residence halls with both formal and informal resident-faculty interactions through educational programming.
Dr. Marcos Lopez is our current Faculty in Residence. Born and raised in Wichita Falls, Texas, Dr. Lopez graduated from Hirschi High School in 2005, completing the International Baccalaureate Program. Following graduation, he received his Bachelors of Science in Mathematics at the University of North Texas in 2009 and received his Master's in Science in 2012. Dr. Lopez then went on to complete his Ph.D. in Mathematics from the University of Cincinnati in 2015.
Midwestern State University has been honored to have Dr. Lopez as an Associate Professor in the Department of Mathematics, teaching a range of subjects from College Algebra to Introduction to Real Analysis. In addition to teaching, Dr. Lopez serves as the vice president of the Faculty Senate and is the faculty sponsor for the Student Ambassadors.
Dr. Lopez is passionate about music and listening to a wide variety of music and has played several instruments, including guitar, piano, and percussion, for over 20 years. Dr. Lopez has hosted a variety of events and programs on campus and in the community. Before the pandemic, He hosted weekly trivia shows at the Wichita Falls Brewing Company and emceed the 2019 Wichita Falls Veterans Day Parade and the Wichita Falls Adult Literacy Council's Annual Spelling Bee Fundraiser.
Be sure to say hello to Dr. Lopez as you see him around campus. If you have any questions for him or would like to inquire about specific programs, please email him at Marcos.Lopez@MSUTexas.edu.
Graduate Assistant Initiatives
A Graduate Assistant for Academic Initiatives is a student who is enrolled in a master's program at Midwestern State University and is simultaneously employed by the Residence Life and Housing Department.  Being a successful graduate of an undergraduate program, allows them to have the experience to access the academic needs of college students in order to be successful. 
Graduate Assistant for the 2021-2022 Year:
Syarra Tonge 
Graduate Assistant – Academic Initiatives 
Email: Syarra.Tonge@msutexas.edu