The university enjoys an excellent student-faculty ratio of 20:1. Our small classes are designed to provide you with a small college environment at an affordable state university price. Faculty know their students and provide them with the personal attention that is made possible through small classes. We are excited about your interest in the Dillard College of Business Administration. We are committed to providing you with the support and resources necessary for you to effectively manage your own future!
About Us
We're Accredited
The Dillard College of Business Administration at Midwestern State University is an accredited member of AACSB International - The Association to Advance Collegiate Schools of Business (AACSB). We attained this accreditation in April 2010.  Founded in 1916, AACSB International is the longest-serving global accrediting body for business schools that offer undergraduate, graduate, and doctoral degrees in business and accounting.
Less than 5% of the more than 16,000 schools worldwide granting business degrees have earned AACSB Accreditation. AACSB-accredited schools produce graduates that are highly skilled and more desirable to employers than other non-accredited schools.
Why is this accreditation important?
AACSB International accreditation represents the highest standard of achievement for business schools worldwide. Institutions that earn accreditation confirm their commitment to quality and continuous improvement through a rigorous and comprehensive peer review. AACSB International accreditation is the hallmark of excellence in management education.
AACSB International accreditation assures stakeholders that business schools:
Manage resources to achieve a vibrant and relevant mission.
Advance business and management knowledge through faculty scholarship.
Provide high-caliber teaching of quality and current curricula.
Cultivate meaningful interaction between students and a qualified faculty.
Produce graduates who have achieved specified learning goals.
We Prepare You for Success
Our students give our faculty a

 

4.39 average rating for their instruction (the highest score possible is 5).

*Professional business core course average for the past 3 years



Dillard College CPA candidate success ranks 21 out of 81 schools and universities whose students took the Texas CPA exam. 
Our BBA graduates outscore 64% of business school graduates across the nation.

*Source: ETS® Business Major Field Test Results 2014-2018
What we Believe
Today, more than ever before, adaptability, innovation, and creativity are essential for success.  Our focus is to prepare students for professional success in a dynamic global business environment.  Life-long learning and the ability to analyze and critically evaluate problems and opportunities are central to our vision and mission.  The Dillard College of Business is not only a degree-granting college, but one that plays a significant role in the economic development and vitality of our region.
Students in the Dillard College of Business Administration are provided opportunities for learning beyond the classroom in several ways:
Assisting new and established businesses with problems and opportunities in partnership with the Dillard College Small Business Development Center (SBDC) and area business leaders
Experiencing your chosen career field while earning credit through participation in the Internship program
Participating in academic research with faculty members
Assuming leadership positions in one or more of Dillard College's student organizations
Developing your resume and interviewing skills through programs in the Career Management Center
Our Programs
The faculty and staff of the Dillard College are very proud of the transformative experience we offer our students. Building on a core curriculum that develops the skills employers seek, we offer seven "hands on" majors in a state-of-the-art instructional facility. Our majors include Accounting, Finance, Management, Marketing, Management Information Systems, Economics (optional Agribusiness and International Business concentrations), and General Business.
We offer minors in Accounting, Business Administration, Economics, Entrepreneurship, Management Information Systems, Marketing Communication, and Nonprofit Management.
Our Master of Business Administration Program offers optional concentrations in Accounting, Business Analytics, and Energy Management. Schedule an advising appointment today and make the Dillard College your home!
Our Mission
OUR VISION is to be among the highest value and most relevant business programs, growing significantly in reach, impact, and success for the benefit of our stakeholders.
OUR MISSION is to graduate lifelong learners ready to succeed personally and professionally in a competitive and evolving environment.  The Dillard College also provides specialized services that enhance our stakeholders' economic and social well-being.


The Dillard College fully embraces and embodies the MSU Texas values of: people-centered, community, integrity, visionary, and connections.

Strong Foundation:

 

The University's Liberal Arts tradition establishes a strong foundation upon which Dillard College's commitment to professional, high-quality business education is built.


Excellence:

 

Our academic programs reflect a strong commitment to a tradition of excellence, such that our graduates become Mustangs for life.


Global Perspective:

 

The College's global perspective is promoted and demonstrated by the curricular opportunities as well as the cultural and geographical diversity of our students and faculty.


Socially Responsible:

 

We foster a diverse and inclusive environment with the multicultural and sustainable perspectives critical to success in the dynamic global market.


Interaction:

 

The culture of Dillard College is characterized by meaningful and respectful interaction between learners and faculty amid continuous improvement in teaching excellence.


Thought Leadership:

 Faculty research in applied, pedagogical, and basic traditions further strengthens our learners' education experience and our impact on external stakeholders

.
Our Statement on Professionalism
The faculty, staff, and students of the Dillard College of Business Administration are committed to being a "professional" in our words, conduct, and actions.
The qualities of a professional include: 
A commitment to the development of specialized knowledge
Competency in analytical, oral and written communication skills
Self-discipline
Reliability
Honesty and integrity
Trustworthiness
Timeliness
Accountability for words and actions
Respect for others and other cultures
Politeness and good manners
A professional image (professionals look professional)
An awareness of their environment and adaptability to different settings
Confidence without arrogance
A commitment to giving back to your community
How We're Engaged in our Community
The Dillard College of Business hosts guest speaking events throughout the year to further contribute to the diversification of knowledge and experience for our students, university, and community. Visit our Business Engagement page here to learn more!
Our Facility
Dillard STAR Lab
Funded generously by Ms. Kay Dillard, the Dillard College of Business Administration's Security Trading and Research Lab, or the Dillard STAR Lab, creates a simulated trading floor where students gain experience in the fast-paced world of securities trading and research. The Lab is equipped with 23 networked workstations, of which 9 are Bloomberg terminals, to gives students significant on-the-job-style training.

In addition, the Lab features a full-color LED ticker and an interactive portal of financial information from Rise Display. Courses including Student Managed Investment Fund (SMIF), FINC 3633 Financial Analysis, FINC 4653 Financial Management, and FINC 4833 Security Analysis and Portfolio Management regularly use the Lab. Through the Bloomberg terminals, the STAR Lab also provides faculty and students access to financial and economic data for research.
Read more about the STAR Lab here.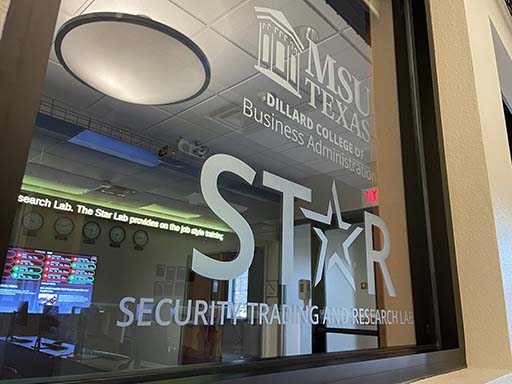 Bloomberg ELP
Midwestern State University (MSU Texas) is proud to be a Bloomberg Experiential Learning Partner (ELP) that incorporates the use of Bloomberg terminal into its curriculum. Bloomberg terminal, a fixture in the finance industry, provides financial information and analytics on a global scale. In the Dillard College of Business Administration, students not only have the opportunity to complete the Bloomberg Market Concepts (BMC), an online e-learning course provided by the Bloomberg Institute, through the terminal, but also learn the functions and applications of the terminal through hands-on practice in various courses. Example courses include FINC 4653 Financial Management, FINC 4733 Investments, FINC 4753 Advanced Issues in Corporate Finance, FINC 4833 Security Analysis and Portfolio Management, and FINC 4933/4943/5933/5943 Student Managed Investment Funds.
Dillard College Floor Maps