Presenter: Orville Vernon Burton

Date: Monday, April 18, 2016, 7:00 p.m.

Location: Wichita Falls Museum of Art, 2 Eureka Circle
Description: "Lincoln's Civil War"

Burton is a prolific author and scholar (twenty authored or edited books and more than two hundred articles); and author or director of numerous digital humanities projects. The Age of Lincoln(2007) won the Chicago Tribune Heartland Literary Award for Nonfiction and was selected for Book of the Month Club, History Book Club, and Military Book Club. One reviewer proclaimed, "If the Civil War era was America's 'Iliad,' then historian Orville Vernon Burton is our latest Homer." The book was featured at sessions of the annual meetings of African American History and Life Association, the Social Science History Association, the Southern Intellectual History Circle, and the latter was the basis for a forum published in The Journal of the Historical Society . His In My Father's House Are Many Mansions: Family and Community in Edgefield, South Carolina (1985) was featured at sessions of the Southern Historical Association and the Social Science History Association annual meetings. The Age of Lincoln and In My Fathers' House were nominated for Pulitzers. His most recent book, is Penn Center: A History Preserved (2014).
Biography:
Orville Vernon Burton is Creativity Professor of Humanities, Professor of History, Sociology, and Computer Science at Clemson University, and the Director of the Clemson CyberInstitute. From 2008-2010, he was the Burroughs Distinguished Professor of Southern History and Culture at Coastal Carolina University. He was the founding Director of the Institute for Computing in Humanities, Arts, and Social Science (I CHASS) at the University of Illinois, where he is emeritus University Distinguished Teacher/Scholar, University Scholar, and Professor of History, African American Studies, and Sociology. At the University of Illinois, he continues to chair the I-CHASS advisory board and is also a Senior Research Scientist at the National Center for Supercomputing Applications (NCSA) where he served as Associate Director for Humanities and Social Sciences from 2002-2010. He serves as Executive Director of the College of Charleston's Low Country and Atlantic World Program (CLAW). Burton serves as vice-chair of the Board of Directors of the Congressional National Abraham Lincoln Bicentennial Foundation. In 2007 the Illinois State legislature honored him with a special resolution for his contributions as a scholar, teacher, and citizen of Illinois. A recognized expert on race relations and the American South, and a leader in Digital Humanities, Burton is often invited to present lectures, conduct workshops, and consult with colleges, universities, and granting agencies.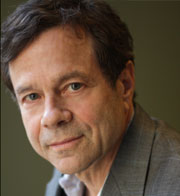 Presenter: Alan Lightman, physicist, novelist, and essayist
Date: Thursday, April 7 at 7:00 pm

Location: Fain Fine Arts Auditorium
Description: "The Physicist as Novelist," exploring the similarities in the ways scientists and artists view the world 

In this lecture, Alan Lightman draws on his unique personal experience as both a physicist and a novelist to discuss the similarities and differences in the way that the sciences and the arts approach the world, their different conceptions of truth, their different methodologies, and the similarities in their creative process. For example, all questions in science have definite answers, while questions in the arts (and often the humanities) do not have definite answers—and sometimes no answer at all. 
Alan Lightman is a physicist, novelist, and essayist. He was educated at Princeton University and at the California Institute of Technology, where he received a Ph.D. in theoretical physics. Before coming to MIT, he was on the faculty of Harvard University. At MIT, Lightman was one the first people to receive dual faculty appointments in science and in the humanities and was John Burchard Professor of Humanities before becoming an Adjunct Professor to allow more time for his writing. His essay "In the Name of Love?" was the first article about love and language published in Nature, the prestigious international science journal (October 8, 2001), and his "The First Law of Thermodynamics" was the first short story published in the physics journal Physics Today (May 2005). Lightman is the author of five novels, two collections of essays, a book-length narrative poem, and several books on science. His writing has appeared in The Atlantic, Granta, the New Yorker, and the New York Review of Books, among other publications. His novel Einstein's Dreams was an international bestseller and has been translated into thirty languages. His novel The Diagnosis was a finalist for the 2000 National Book Award in fiction. He is an elected member of the American Academy of Arts and Sciences and has won numerous other awards. Lightman is also the founding director of the Harpswell Foundation, which works to empower a new generation of women leaders in Cambodia.
---
Presenter: Donna Johnson, author 
Date: Tuesday, October 27, 2015 at 7:00 pm
Location: Wichita Falls Museum of Art at Midwestern State University
Description: Readings from Holy Ghost Girl, a memoir

Donna Johnson was three years old when her mother signed on as the organist for Brother David Terrell, a hugely popular apocalyptic tent preacher during the 1960s and 70s. As a member of Brother Terrell's inner circle, Donna had a front row seat for the miracles, exorcisms, KKK face-offs, and betrayals of the flesh that were common under the tent. As the faithful followed their prophet to backwaters across the South to await the end time, Donna left the ministry for good at age seventeen. Recounted with deadpan observation and surreal detail, Holy Ghost Girl bypasses easy judgment to articulate a rich world where the mystery of faith and human frailty share a surprising and humorous coexistence.
Biography:
Donna Johnson spent years writing about the mysterious workings of technology, most of which she took on faith. She created, wrote, and produced a radio show called Tech Ranch, which said everything that could be said about technology and culture in one minute, five days a week, for too many years. Through the writing of Holy Ghost Girl, Donna found a way to connect the disparate parts of herself. The sight of a gospel tent stretched against an evening sky leaves an ache in her heart, but she no longer flees at the sound of a tambourine. She has been known to tell people she'll pray for them. And she does. The big questions posed by religion continue to occupy Donna. She has written about matters of faith for the Dallas Morning News and the Austin American Statesman. Donna lives and writes in Austin, Texas, where with the help of family and friends, she works at becoming a regular person.
Excerpt:
"By seven o'clock on opening night, a dusty brown canvas and a collection of scuffed-up poles had been transformed into an ad hoc cathedral.  People came from near and far.  Black and white, old and young, poor and poorer.  Women with creased brows and apologetic eyes as faded as their cotton dresses, clutching two and three children who looked almost as worn out as their mothers.  Men, taut as fiddle strings, hunch-shouldered in overalls or someone else's discarded Sunday best, someone taller and better fed.  They came to find a sense of purpose and a connection to God and one another.  They came because the promises of the beatitudes were fulfilled for a few hours under the tent, and the poor were truly blessed.  They came for miracles, answers, and salvation.  They came to see the show."