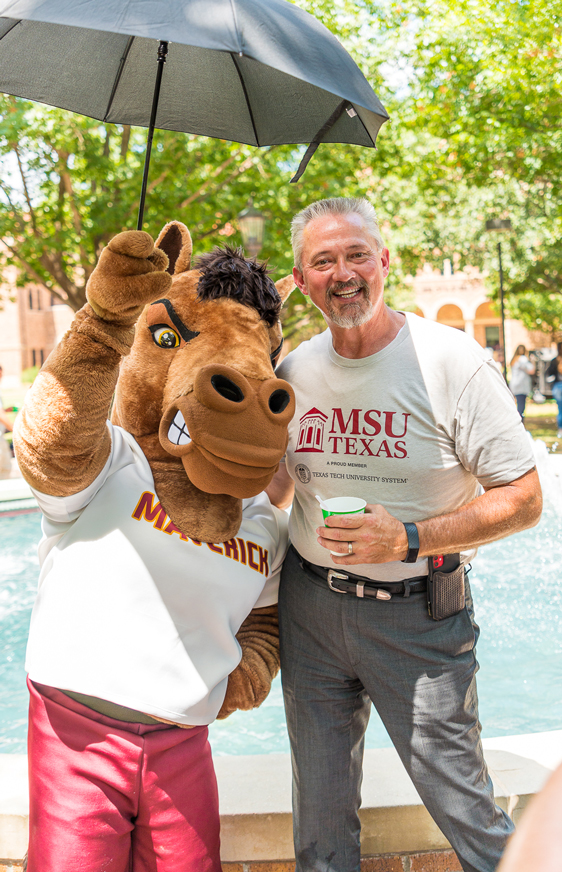 Greetings All,
It is my pleasure to welcome you to Midwestern State University. MSU Texas is a university with a rich history focused on student success. We deliver a strong liberal arts and sciences foundation and then build upon that with outstanding majors across all disciplines. 
As we begin a new academic year, COVID-19 remains a concern and challenge. I know this is not the "normal" we had hoped for but as we did last year, we remain committed to safely delivering an in-person experience. A major difference this year is that we do have effective measures and vaccines available to help us remain in-person and enjoying all that university life has to offer. Once again, I ask each of you to do your part to take care of our Mustangs family.
This academic year marks a historic time for Midwestern State University. On September 1 we became the fifth member of the Texas Tech University System. We are now part of a much larger family that shares our values and commitment to serving students. This historic step also brings greater opportunities for collaboration and growth that will benefit MSU Texas and the Wichita Falls area.
In January 2022 MSU begins its centennial celebration. It is a time to reflect on our rich 100-year past, celebrate who we are today, and set a course for our next 100 years of excellence. Be sure to mark your calendars and take part in the celebratory events that will extend through 2022. 
MSU has long served many first-generation as well as legacy college students. With each alumnus we change lives for the better. My own family represents an MSU legacy family that began with me, a first-generation college graduate from West Texas. As a two time MSU graduate, it is my honor to serve as the Interim President of this great University. I am committed to maintaining our reputation for excellence and growing our ability to provide quality education and opportunities.
Together we will overcome the challenges of the present, prepare for an exciting future, and celebrate our success along the way.
With Mustangs Pride,
James Johnston, Ph.D.
Interim President