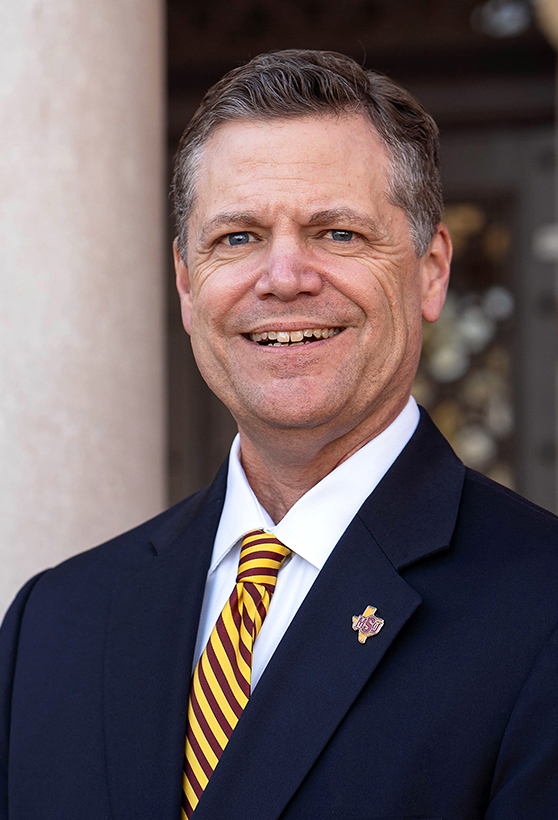 Welcome to Midwestern State University! It is my honor to share the Mustangs spirit with you.
MSU Texas is a values-based institution. Our core values of People-Centered, Community, Integrity, Visionary, and Connections guide our actions. It is no accident that we list People-Centered first; our community values authentic relationships with one another. You will immediately understand this when joining our community. The personal attention our students receive is a hallmark of the MSU Texas experience.
More than half of MSU Texas students will be the first in their families to obtain a four-year degree. Accordingly, in 2022 our university was one of two Texas public universities to receive an A rating on ScholarShot's Texas Public University Report Card measuring engagement and outcomes of first-generation students. Given MSU's affordability and the success of our graduates, we are consistently a top performer in social mobility rankings.
Our diverse student body comes to MSU Texas from around the globe, with some 8% of our students coming from 55 different countries. Every day, our students, faculty, and staff quite literally interact with the world. Mentored by expert faculty and staff, our students are prepared to thrive in a global society. We are committed to opening the world for all of our students.
With 49 undergraduate and 27 graduate academic programs, MSU has something to offer just about everyone. Our exceptional undergraduate research program, where students are mentored by faculty, provides MSU Texas students an advantage in graduate school or employment applications once they graduate. With in-person classes offered at our Wichita Falls campus, many online classes and programs, and a distance learning support center in Flower Mound (DFW), now is the best time to access an MSU Texas education.
The Mustangs experience is about learning and growing, it is about community, and it is about spirit and pride. On behalf of our entire Mustangs family, I invite you to experience this for yourself.
With Mustangs Pride,
Keith Lamb, Ph.D.
Interim President